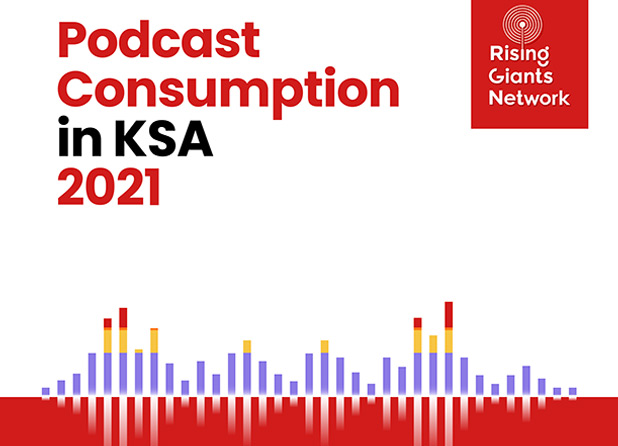 Rising Giants Network , a story-telling firm that is focused on scripting, producing, and building immersive podcast experiences, has launched its first-ever study into podcast consumption in the Kingdom of Saudi Arabia.
The new research carried out, focuses on four main areas: Consumption Preferences, Language Preferences, Listening Habits and Personal Preferences, while each focus has been compared across three demographics – Gender Trends, Age Trends & Regional Trends.
The report has revealed several interesting findings such as:
Apple remains the biggest podcasting platform with over 80% of podcast listeners getting their podcasts from the platform. Anghami is also up-and-coming in KSA and changing perceptions.
Podcast listeners surveyed overwhelmingly say that the main language of their favourite podcast is Arabic
For podcast listeners, entertainment, with all of its subgenres, came in the lead in terms of preferred content, followed by art, sports, religion, news, wellbeing, current affairs, education, comedy and finally technology.
Exploring when podcasts are listened to, the top times podcast listeners tend to tune in are:
41% while doing housework/chores
36% while driving
31% on the way to work
28% getting ready in the morningPodcasts have surely become a companion of choice, with listeners tuning in more than ever before; what's clear from the research is that there is a 100% continued and growing popularity of podcasts in Saudi Arabia.
Click here to view the full report.