Build a meaningful connection with your audience 
"80% of podcast listeners complete a full podcast episode"
– Music Oomph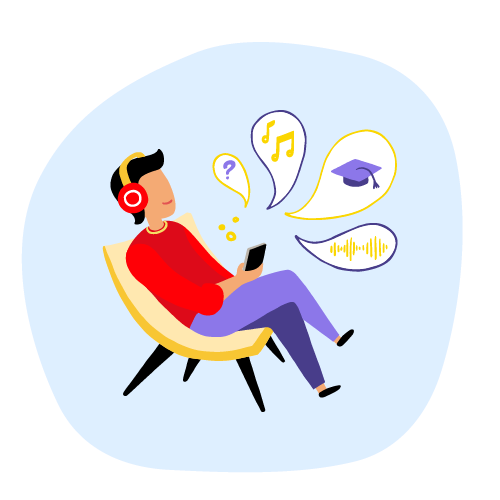 Capturing the imagination of
an engaged audience
Want to capture the imagination of an engaged audience? Rising Giants Network offers a wide range of programming for our brand partners to choose from. 
Our podcast partnerships is built on the principles of delivering high-quality audio brand partnerships, and keeping in mind a non-intrusive approach to our listenership experience.
We offer various solutions that help our partners in reaching out to the right audience. We help in setting goals, coming up with the right formats and delivering results. 
CONTENT EXCELLENCE
With state of the art studios & the best talent in the region, RGN helps its partners in coming up with powerful content that resonates with core audience groups.
AUDIENCE SOLUTIONS
We prioritize audience over everything. We want to make sure that the listening experience is never compromised and always enjoyable. This is why we work closely with our partners to ensure that any ad solutions fit well with the overall vibe of the show.
MEASUREMENT
We understand the importance of knowing the results of our partnerships, so we keep a close eye on data and pre-set KPIs in order to help us understand how to best achieve success. 
DISTRIBUTION
Knowing where the audience consumes content is as essential as the content itself.  We ensure all key-touch points are met and addressed with effective targeting and distribution technology. 
Building Objectives
What is it that you want to accomplish by building a podcast or advertising on one? Let us know the type of audience that you want and we will come back to you with an idea, or show (or even a bunch of shows) that would suit your needs. Our are shows built on certain topics of interests which can cater various needs.
Becoming Partners
When we think about the shows to work on, we work with you as a partner with a vested interest in your success. We will challenge conventional approaches and present you with innovative ideas and media plans in order to ensure success.
Content Building
When we agree on objectives and the overarching partnership dynamics, we will work with the same passion we have towards our shows in order to build content for you that helps amplify your message. 
Delivering a Promise
With every show, we look at how we can ensure successful metrics are met. With our partners and creators we agree on the best performance indicators that help measure the success of our partnership