About the show
"You Can Relate" or أحاديث بتشبهنا is a podcast that tackles and reviews
a work of art: book, movie, documentary not only to review it,
but to derive the main concepts out of it that everybody can relate to.
It aims to engage the audience in conversations that provoke their
thoughts and their feelings. To further enrich the conversation,
we host a guest each time to reflect and engage and present a different
view point on the topics tackled.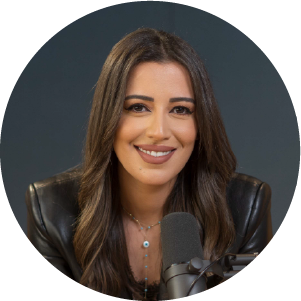 Senior journalist and TV presenter/ producer with 10 years of experience in the media industry. Dana graduated with a B.A in Communication and Information Studies majoring in Journalism from the American University in Dubai. She was a segment presenter and reporter for MBC news (2013 – 2016), then she moved to Sabah El Kheir Ya Arab, MBC's flagship morning show and produced a 30 episode series on Syrian refugees in Europe. Afterwards, she started producing and presenting a daily news bulletin and press review on the show. In 2019 Dana obtained her M.A in Media Leadership and Innovation from the American University in Dubai, and graduated top of her batch. During the past couple of years Dana produced Jeddah season show, Everybody wins tonight, and is also a Morning show producer and presenter covering topics related to knowledge and pop culture.